Employment Screening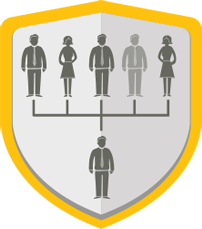 Henry Ford once said, "Coming together is a beginning; keeping together is progress; working together is success…" and those wise words are as relevant today as they have ever been. Any business owner wants to ensure that the best people are in the best jobs, so selecting, retaining and developing the right candidates is a priority in today's competitive employment marketplace.
Employee Screening can cover off everything from identity, academic qualification and employment history verification through to criminal record searches, gap in employment analysis and adverse media impact.
Pre-employment screening not only allows businesses to form a time-effective and accurate picture of potential employees when making their recruitment choices but can also significantly reduce the burden placed on internal resources.
Screening Checks Include:
Identity Verification
Are they who they say they are?
Passport and Document Verification
Are travel documents and work visas current?
Employment History Verification
Where have they worked and why did they leave?
Criminal Record Search
Do they have any previous or unspent convictions?
Academic /Qualification Verification
Are they qualified to work for you?
Adverse Financial Checks
Does their personal, financial situation pose a risk?
Financial Conduct Authority [FCA] Search
Have they been investigated for financial malpractice?
International Screening for overseas candidates
Where in the world have they worked?
Employment Gap Analysis
Why did they take a career break?
Adverse Media Analysis
Were they the subject of a negative news story?
Government Clearance Search
Are they fit for purpose and compliant for the role?
Self-Employed Reference Verification
What is their official, registered SE status?
Our Approach
Using the most up-to-date databases and industry-leading tools and methodologies, we tailor each candidate search according to the specific requirements of the client: Government departments and Healthcare organisations may well set more detailed and different criteria for employee searches than businesses in the Retail and Logistics sectors, for example.
Once the criteria have been set, our team will compile a comprehensive report on each prospective employee, which includes all the must-know information as well as other areas that the employer might want to consider when making their final selection, e.g. Adverse Financial Checks (motivation for taking the job), additional Directorships held (possible conflicts of interest) and Right To Work / International Screening (for candidates from other countries).
Our cost-effective Employee Screening and Professional Vetting services can help your business select and recruit the most suitable personnel to deliver the most value to your organisation – we've got some testimonials from satisfied clients below so please do contact us for more information and guidance in this area.
Testimonials
Proven to be incredibly valuable

We recruit and select freelance personnel from across the whole of Europe, to create content for various media platforms. Ascertaining the legitimacy of potential candidates' work portfolios and non-UK employment history is a fundamental must-have for our business. CRS' Employment Screening services have proved incredibly valuable to ensure we get the best people working on …

Value for money investment

CRS's Employee Screening process is trouble-free and a really effective yet simple solution for our organisation. Our priority is to recruit the most trustworthy and honest individuals as our Service Delivery Partners to safeguard the quality and reputation of our business. Whilst we could be classed as a high-volume user – over 1,500 employees screened …